6th Skin : Love Is Peace
Minggu, 20 April 2014.
Assalamu'alaikum..
Hai! Udah lama gak nulis.. Oh ya, udah lama aku meluncurkan skin terbaruku, tapi belum sempat bikin postingan di sini. Ya udah, now is the time!
Skin ini judulnya Love Is Peace. Skin-nya unyu deh (menurutkuu) :P Aku bikin skin ini bareng Meiza. Tahu kan? Meiza Maulida Munawaroh... :) Pokoknya serba peace dan love. :D Kesannya juga lembut dan nyaman.. Hehehe.. Susah payah lho buatnya o.O Jadi tolong di-rate, jadikan favorite, plus comment yaa..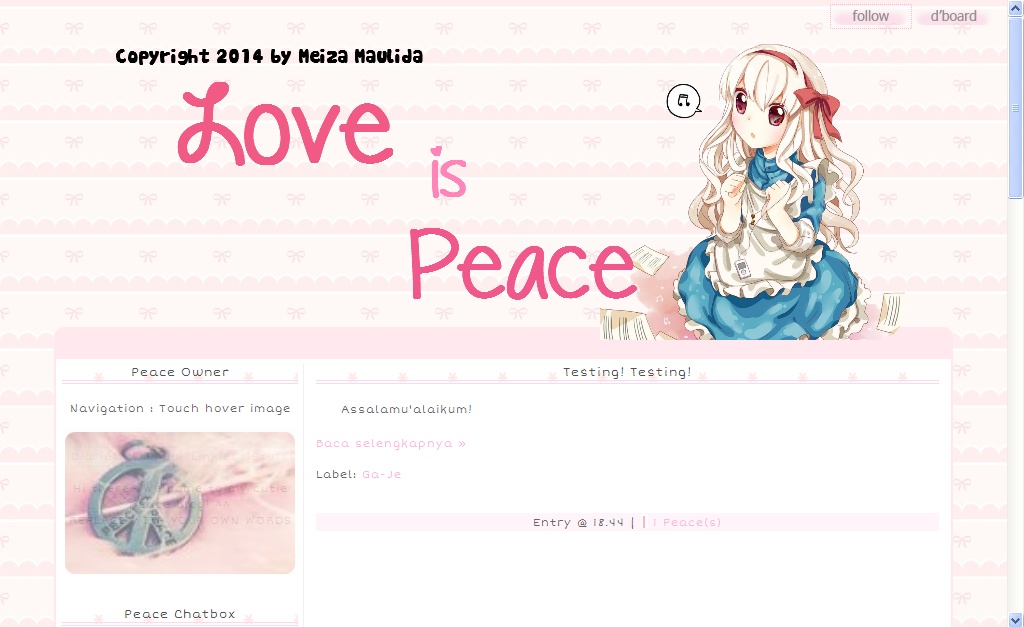 Nah, udah keliatan kan? :D Hmm.. Sekali lagi, tolong di-rate, comment, dan jadiin favorite yaa.. Oh ya, yang belum follow aku di akun blogskins.com, follow doonngg.. Ask me to follback :)) Heemm.. Udah segitu dulu aja yaa..
Gomen~!
Label: My Skins